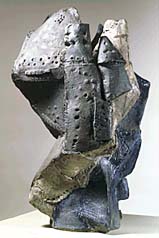 Little Big Horn, 1959
Photo: © schoppleinstudio.com
Artists of Invention: A Century of CCA.

Opening October 13, 2007 and continuing through March 16, 2008, at the Oakland Museum of California was an exhibition entitled Artists of Invention: A Century of CCA a survey of work by 100 faculty and alumni at the California College of the Arts (formerly known as the California College of Arts & Crafts). Organized by CCA alumni, Philip Linhares, Chief Curator of Art, Ted Cohen, exhibition designer and Lee Plested, consultant at the Oakland Museum of Art and with a contemporary section organized by CCA alumni Liz Mulholland, Abner Nolan, Chris Perez, Jessica Silverman, and Bay Area curator Tara McDowell, the show featured more than 120 works -paintings, ceramics, photography, video, sculpture, mixed media, installations, textiles, wood, and works on paper -as well as a contemporary section from the past twenty years. Among the artists included were Trude Guermonprez, Kay Sekimachi, Lia Cook, Richard Diebenkorn, Nathan Oliveira, Manuel Neri, Peter Voulkos, Robert Arneson, Viola Frey, John McCracken, David Ireland, Dennis Oppenheim, Robert Bechtle, Richard McLean, Ralph Goings, Jack Mendenhall, Edith Heath, Jacomena Maybeck, Squeak Carnwath, Raymond Saunders, Marvin Lipofsky, Billy Al Bengston, Garry Knox Bennett, Robert Arneson, Wally Hedrick, John Coplans, Bella Feldman, Gordon Onslow-Ford, Paul Wonner and The Society of Six. While on the G.I. Bill, Voulkos enrolled at CCAC in 1951 and earned his Master of Fine Arts degree the following year. His graduate thesis was on lidded jars. Voulkos' made his 62-inch-high sculpture Little Big Horn, pictured at left and now in the collection of the Oakland Museum, a scant seven years later in 1959.

The school was founded in 1907 by Frederick Meyer, a German cabinetmaker, as the School of the California Guild of Arts and Crafts. It was known for many years as CCAC (California College of Arts & Crafts). In 2003 the college was renamed California College of the Arts. For more information, please contact the museum via telephone 510-238-2200 or visit the museum's website.