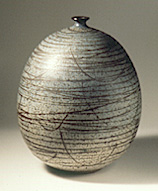 Bottle,c. 1953
Photo: schoppleinstudio.com

Black Mountain College: Experimenting With Power

The Museo Nacional Centro de Arte Reina Sophia in Madrid, Spain presented an exhibition of work by the artists, composers, dancers, musicians and writers who were active at Black Mountain College in North Carolina sometime between the years 1933 and 1956 when the school closed. Among the faculty at this innovative institution were Josef & Anni Albers, John Cage, Merce Cunningham, Willem de Kooning, Lyonel Feininger, Buckminster Fuller, Walter Gropius, Karen Karnes, Franz Kline, Jacob Lawrence, Warren MacKenzie, Robert Motherwell, Charles Olson, M.C. Richards, Robert Turner, Jack Tworkov and Peter Voulkos. Visual works were supplemented with audio & video recordings, musical scores, manuscripts and publications such as the journal, the Black Mountain Review produced by the college. Among the work included was the Bottle, pictured at left, by Peter Voulkos who taught a summer session in 1953.

This exhibition was curated by Vincent Katz who was awarded a fellowship for literature from the Academy in Rome in 2001. The show opened October 22, 2002 and was on display through January 2003. For more information about the museum and the exhibit, please visit the Reina Sophia website.