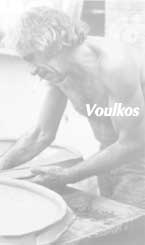 Announcement
Voulkos exhibit, 1998
Braunstein/Quay Gallery
San Francisco



Solo Show at Charles Cowles Gallery

The Charles Cowles Gallery in New York City mounted a solo show of Voulkos' work entitled Peter Voulkos: Major Work from December 1, 1998 through January 30, 1999. Featured were works from the gallery collection.

Solo Show at Braunstein/Quay Gallery

In October 1998, a solo show of Voulkos' work was the last show the Braunstein/Quay Gallery in San Franciso presented in their space on Sutter Street before moving to their current site on Clementina. Representing 30 years of exhibition history with the gallery, it was also Voulkos' twelfth solo show there. His first show in 1968, called Voulkos Pottery, consisted of a body of work that has come to be known as his "blackware" work. This recent show featured some of his very large early paintings from the 1960s along with new ceramic woodfired stacks, plates and buckets fired in Peter Callas' kiln in New Jersey and new monotypes made with Robert Brinker of MaNose Studios in Colorado.

Contemporary Ceramics: Selections from The Metropolitan Museum of Art

The Metropolitan Museum of Art presented the fourth exhibition in their series of shows featuring works made in one medium from their collection. Sixty-one ceramics works from 1961 to the present were on exhibit from November 1998 through May 1999. Co-curated by J. Stewart Johnson and Jane Adlin, it included four Voulkos works ranging from one of his "stencil" plates made in 1958 to his 1997 woodfired stack, Noodle.

A catalogue with color reproductions of nearly all the works in the show was underwritten by the Friends of Contemporary Ceramics and is available from the Metropolitan Museum website where you can also read more about the exhibit.