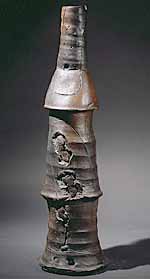 Voulkos bronze stack
Photo: schoppleinstudio.com



Two-Person Show:
Peter Voulkos & Betty Woodman

The gallerymateria (formerly known as The Hand and the Spirit) featured works by ceramic artist Betty Woodman and Peter Voulkos. The gallery showed seven of Voulkos' recent bronzes and three of his small drypoint etchings. Located in Scottsdale, Arizona, this exhibit opened February 3, 2000 and was on view through March 1st. The gallery recently participated in SOFA New York held at the Seventh Regiment Armory building from May 31st through June 4th. Voulkos was represented with his bronze stack, S7.

Please contact the gallery by telephone: 480-949-1262 or by email for more information.

Pictured at right and below left are two of the bronzes at the gallerymateria, a stack, S7, taken from one of Voulkos' ceramic stacks made in 1969 and an ice bucket, IB4, from 1998. Pictured below on the right is one of Voulkos' drypoint etchings, CR312-Pr, in the exhibition.