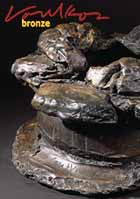 Announcement
Photo: schoppleinstudio.com


Solo Show at Mussi Artworks Foundry & Gallery

The inaugural exhibition in the newly built gallery space at Mussi Artworks Foundry and Gallery in Berkeley, California featured early expressionistic paintings from the 1950s and 60s and recent drypoint etchings and cast bronzes by Bay Area artist Peter Voulkos along with a series of bronzes. Perhaps most well known for his ceramic work, Voulkos has created a body of bronze works from a selection of his stacks, plates and ice buckets and one of his models for his large bronze sculpture, Sirius.

Also on view was the premiere showing of his bronze sculpture based on his 1959 clay sculpture, Sevillanas, which broke in the Loma Prieto earthquake of 1989. Comprised of some thirty-five works, the exhibit opened September 7, 1999 and ran through the 26th.

A catalogue of the bronzes is available. See the Publications section on the left for for more information. Voulkos' bronze works can currently be seen on the Mussi Artworks Foundry website and now in the Portfolio section of this site, there are "slide shows" of one of Voulkos's bronze stacks, S4, his sculpture, Sevillanas, and two of his bronze ice buckets.