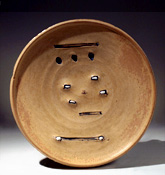 Untitled Plate, 1973
Photo: schoppleinstudio.com



Beyond Tradition: Art Legacies at the Richmond Art, Part II

With thanks to the Richmond Art Center, California, website for the following information: In continued celebration of the Richmond Art Center's 75th Anniversary, Beyond Tradition: Art Legacies at the Richmond Art, Part II, features the work of recognized artists that have been a part of the center's history from the 1970's until the present. This exhibition is the partner to Beyond Tradition Part I that ran from March to June, 2011, and featured artists from the 40s, 50s, and 60s. The artists in this exhibition encompass talents across an array of disciplines including photography, painting, printmaking, ceramics, glass, video, sculpture, and installation. They investigate a range of subjects and represent the diversity of contemporary artists of the Bay Area. Curated by Emily Anderson and Anthony Pinata, the exhibition was on view from September 24 through November 12, 2011.

Artists in the show include Seyed Alavi, Mari Andrews, Curtis Arima, Ramekon O'Arwisters, Ray Beldner, Garry Knox Bennett, Mark Bulwinkle, Squeak Carnwath, Enrique Chagoya, Alan Chin, Bruce Conner, Edward Corbett, Tony DeLap, Stephen DeStaebler, Caleb Duarte, Ala Ebtekar, Nancy Mizuno Elliott, June Felter, Thekla Hammond, Rae Louise Hayward, Raymond Haywood, Al Honig, Lynn Hershman Leeson, JoeSam., Oliver Jackson, Tim Jag, Kerri Lee Johnson, Karl Kasten, Marianne Kolb, David King, Lawrence LaBianca, Therese Lahaie, Marvin Lipofsky, Hung Liu, JP Long, Jessamyn Lovell, Harry Lum, Matthew Matsuoka, Karl McDade, Melani McKim, Charlie Milgrim, George Miyasaki, Grace Munakata, Tomas Nakada, Emiko Nakano, Gabriel Navar, Dennis Oppenheim, Robert Ortbal, Gertrud Parker, Lucy Puls, Sonya Rapoport, Alan Rath, Rik Ritchey, Rigo 23, Jos Sances, Raymond Saunders, Tiffany Schmierer, Jan Hart Schuyers, Nancy Selvin, Richard Shaw, Louise Smith, Livia Stein, Sam Tchakalian, Robert Tomlinson, Andrée Singer Thompson, Carlos Villa, Shalene Valenzuela, Peter Voulkos, Ann Weber, Heather Wilcoxin, Jenifer Wofford, Kurt Wold, Robert Yarber, Wanxin Zhang. Voulkos was represented with one of his signature 1973 gas fired stoneware plates with porcelain "pass-throughs" cobalt oxide/slip and glaze which is pictured at left.

In a review of Beyond Tradition Part I of this two-part exhibition, Kenneth Baker, San Francisco Chronicle art critic, wrote of the Center that, "...its exhibition history - plus its ongoing service as a community arts instruction resource - gives the center bragging rights, as its 75th anniversary show, "Beyond Tradition: Art Legacies of the Richmond Art Center," vividly suggests... [and, in addition, that] ... A wall and a case full of ephemera - correspondence, announcements and such - evokes the center's remarkable role in bringing advanced art, and art controversies, to the Bay Area well ahead of expectations."

For more information about the exhibition and activities at the Richmond Art Center, please call 510.620-6772 or 510.620.6776 or visit the RAC website.