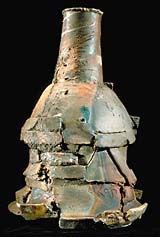 Big Missoula, 1995
Photo: schoppleinstudio.com


Color and Fire: Defining Moments in Studio Ceramics, 1950-2000

Opening June 4, 2000, the Los Angeles County Museum of Art presented a show of ceramic works from the last half of the 20th century drawn from the museum's collection. Curated by Jo Lauria, assistant curator of decorative arts, several works by Voulkos are in this show including his 1995 woodfired stack pictured at left, Big Missoula, his 1958 sculpture entitled 5,000 Feet, a large Standing Jar, circa 1954-55, and a plate from his 1978 series of gasfired plates. Voulkos received both a prize and a purchase award for 5,000 Feet from jurors, sculptor David Smith, painter Elmer Bischoff and art critic Kenneth B. Sawyer in the "1959 Annual Exhibition of Artists of Los Angeles and Vicinity."

The show was up at LACMA until September 17, 2000 and traveled to the Kemper Museum of Contemporary Art, Kansas City, Missouri, December 15, 2000-March 4, 2001; the Tucson Museum of Art and Historic Block, April 1-May 30, 2001, and to the Memorial Art Gallery of the University of Rochester, New York, July 29-October 7, 2001. A 252 page, profusely illustrated catalogue of the exhibition is available. For more information, contact the Los Angeles County Museum of Art.

Treasures for a Queen: A Millennium Gift to Cincinnati

The Cincinnati Art Museum exhibited recent acquistions to their collection during the summer in a show called Treasures for a Queen: A Millennium Gift to Cincinnati. Included were a recently donated ceramic plate made by Voulkos in 1973. The exhibition was on display from June 17 to September 2, 2001. Please contact the Cincinnati Art Museum for more information.