Untitled Plate, 1995
CR1145-W. This plate is made from a kenosei clay body and was fired in the Shigaraki anagama in Japan by Peter Callas.
Peter Voulkos exhibited forty works including ceramics, prints and bronzes at the Sherry Leedy Contemporary Art in Kansas City, Missouri. Recently relocated to a new gallery space, Sherry Leedy Contemporary Art is Peter Voulkos' sole gallery affiliation in the Kansas City area.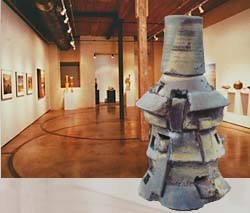 Wedge, 2000
CR1400-W. Voulkos ceramic stack,
Wedge, is superimposed over the South West Gallery. This stack was made in Omaha, Nebraska and fired by John Balistreri on his Ohio anagama.