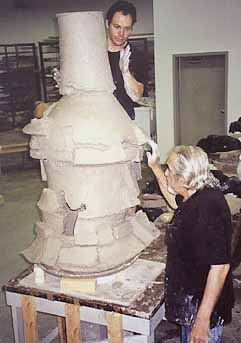 Nebraska
The Bemis Center for Contemporary Arts in Omaha, Nebraska sponsored three days of workshops, barbeques and musical performances over the 1999 Memorial Day weekend. Along with a workshop by Voulkos, Terry Allen and his Panhandle Mystery Band performed in concert and Jo Harvey Allen staged "Homerun," one of her one-woman theatre productions. Slide presentations, videos and lectures were also offered by John Balistreri, Eddy Domingus, Douglas Kent Hall, David Kuraoka, Anton Reijnders, Conrad Snider and Netty Van Den Heuvel.

After the festivities, Voulkos remained in Omaha to work in the Jun Kaneko Studio where he finished the stack he began at the Bemis workshop and built two more large stacks. Two of these were subsequently trucked to Bowling Green, Ohio where they were fired by John Balistreri in his anagama.
Photo at left:
John Balistreri, assisting Voulkos with the construction of his work, places the "neck" on top of a stack while Voulkos checks out the position. This stack, now called "Amaya," was on view in Voulkos' show at the Frank Lloyd Gallery in Santa Monica last December, 1999.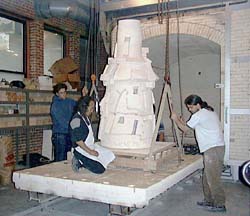 Photo at left:
The third Voulkos stack is being unloaded from Jun Kaneko's kiln after the bisque firing. Kaneko, center, and assistants, Peter Scherr, left, and Jason Hackett on the right prepare to hoist the stack up via a crane and a system of pulleys. Barely visible behind the stack is a third assistant, Ryan Horvath. At eighty inches in height, this is the largest of the stacks.

The interior of Kaneko's enormous kiln measures 8 feet in height, 7 in width and is 9 feet deep. It is a sprung arch car kiln fired with gas. The floor of the kiln is mounted on a track which rolls out faciltating loading and unloading of work and allowing the capabilty of firing very large ceramic pieces. Photo at left and information courtesy of Susan Schonlau.